Social content, look and feel guidelines
My copywriter partner, Addie Williams, and I have been the main content creators for Lee's social channels the past few months. We've made hundreds of deliverables, but here are just a few of our faves.
Election Day Activation
To support an important moment in the cultural calendar, we created limited-edition patches and pins that say "I Voted" in English and Spanish.
The plan was to set up booths near polling locations where people could trade in their temporary stickers for these permanent patches and pins to help them show off their civic pride year-round.
But alas, due to some last minute issues beyond our control the budget got pulled for this activation. However, we had already gotten proofs of the patches and pins made, and we even sent a mini care package to the client for their review. That's what's pictured here.
lee Social Look and Feel Guidelines
Before Addie and I started working on social content for Lee, there wasn't much visual consistency in their feeds. To solve this issue and elevate Lee as a denim fashion brand on social, we created a new look and feel guide. These are some major components of it.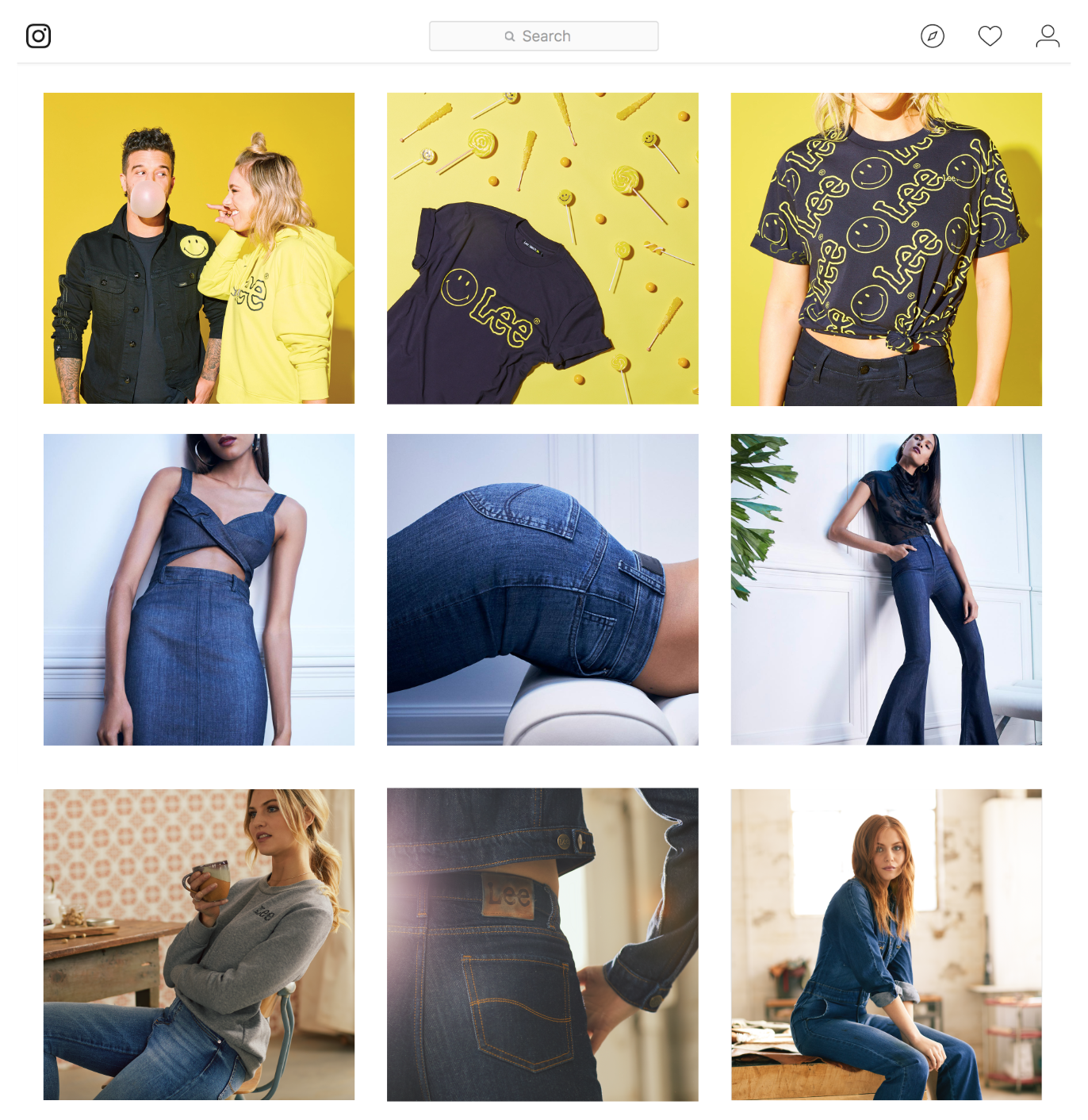 Since the daily Instagram content comes from different shoots with varying styles, we decided to post photos in groups of three. This creates color-blocking for each row, which adds unity and order to the Lee Instagram grid without having to approach every photoshoot with the same lighting, styling, etc.
Layouts
Adding white space to Instagram posts elevates the brand and makes the content stand out in feeds. Playing with layouts that combine multiple images also allows us to showcase detail shots alongside full-body styling images. We incorporated this into in-feed posts and stories on Instagram, as well as Pinterest content.
Apply a [Slight] Warming Filter
Another solve for bringing consistency to images from different shoots is to add a subtle warming filter. Bringing out the golden tones is very own-able for Lee since it gives the photography a vintage vibe and plays off their signature brand gold color.
We also redesigned the cards that accompany the products we send to influencers.
The Dream Team
CDs: Maria D'Amato, Jeffrey Butterworth
CW: Addie Williams